Plug and Play Solar Panels
Do you want to benefit from the sun's output, but find the investment in multiple solar panels on the roof still too large? Then solar panels with a plug can be the ideal solution. These solar panels are "plug and play" and very easy to install! The plug & play solar panels are connected via solar cables to a micro-inverter. And the micro-inverter is again connected via an AC cable to your power outlet.
Do you have a rental property or are you planning to move soon? Then just take the solar panels with a plug with you! An affordable solution for a yield of up to 325kWh per panel, per year. A complete set with two panels has a payback time of 2 years at an estimated yield of 650kWh per year.
At Wallbox Discounter you can choose from solar panels with a capacity of 400, 410, 495 or 560 Wp (Watt peak). We supply a complete set with solar panels, inverter(s), solar cables, AC cable and 2 year warranty. Mounting kit for flat roof, pitched roof or balcony is available separately.
How do plug-in solar panels work?
The solar panel works in conjunction with a micro-inverter to deliver the generated power back to the wall outlet. The micro-inverter ensures that the generated DC power from the solar panels is converted into AC power. And therefore suitable for the grid. Per group in your meter box, you can supply a maximum of 600Wp back, which is equal to one set of 2 solar panels. Do you want to connect more than one set of solar panels with a plug? Then this must be on a separate group in your meter box or using a PV divider.
What do you need for installation?
Wallbox Discounter supplies complete solar panel with plug set consisting of:
Solar panels (400Wp, 410Wp, 495Wp or 560Wp)
Micro-inverter 600Wp or 800Wp
AC power cord 5m
Solar cables 2m (4 cables per set of two solar panels)
That's all you need for installation. In addition to this set, you still need the mounting for on the roof, this is not included, as it depends on the place of mounting. We provide necessary kits for mounting the plug solar panels on flat roofs, sloping roofs and balconies.
In addition, we also have extra long solar cables if the cables from the set are too short. Finally, we also have a simple solution if you want to install more than 2 solar panels on 1 group. For this we have PV distributor where it is possible to mount up to 10 solar panels on 1 group. Please note that you still need 1 inverter per 2 solar panels and that these inverters are connected to each other.
Easy to install yourself
You do not need an installer for the solar panels with plug, because you connect the 'plug and play' solar panels very easily yourself. You place the solar panels on your own roof, garage or in the garden and plug them into an earthed socket. You do not mount them permanently on the roof, so you can easily take them with you. The following situations are possible for mounting:
Assembly on a flat roof with a frame (fixing set for 1 solar panel or fixing set for 2 solar panels)
Mounting on the balcony with the mounting set (2 brackets for 1 solar panel or 4 brackets for 2 solar panels)
Mounting on roof tiles or pitched roofs with the roof tile mounting set (choice of set for 1 to 6 solar panels)
Keep in mind that the solar panels have a weight of 20kg each. In combination with the required ballast, the roof needs a minimum load capacity of 100 kg. For the ballast you can use heavier tiles which will be placed on the mounting bracket. First place a rubber mat on the roof, then the mounting bracket and then a heavy tile.
Common applications
Because solar panels are easy to install by anyone, special kits are available for mounting on flat roofs, pitched roofs and balconies. This makes them suitable for every type of home.
Common applications include:
Rental properties
Office buildings (by tenants)
Homeowners who already have solar panels. But want to generate just a little more solar energy.
Homeowners with ''older'' solar panels that have a lower yield. And want to generate a little more solar energy.
Homeowners who are looking for affordable solutions to still generate solar energy to pay less on their final bill at the end of the year.
Our different solar panel sets
Below we highlight some product sets of the solar panels with a plug:
1 plug-in solar panel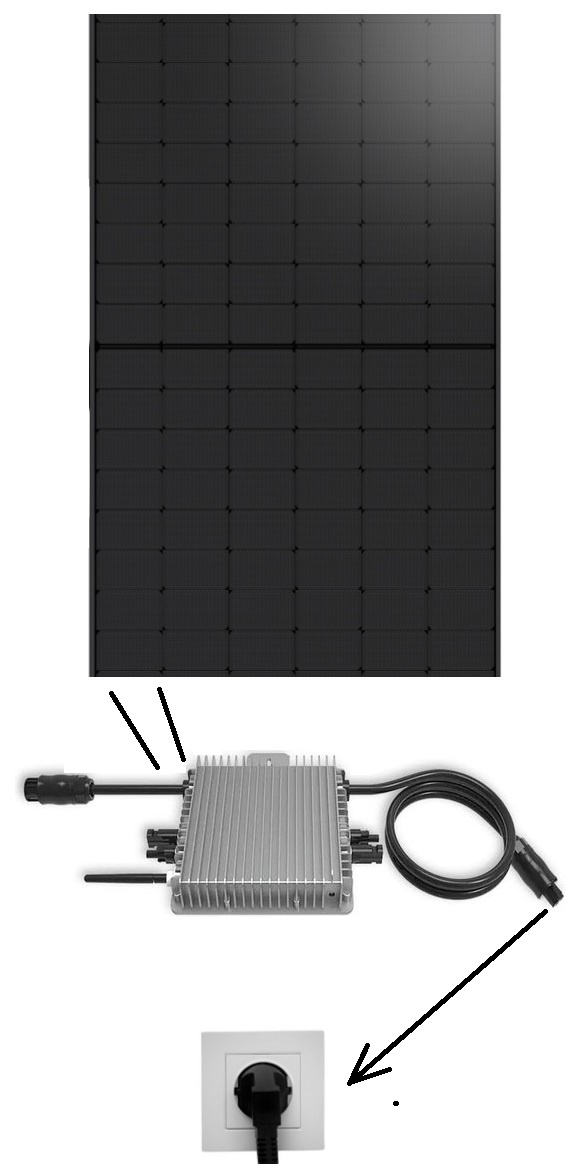 Do you have enough for one solar panel? Then choose a solar panel with plug set with a 495Wp solar panel and an efficient 2x400W inverter.
2 plug and play solar panels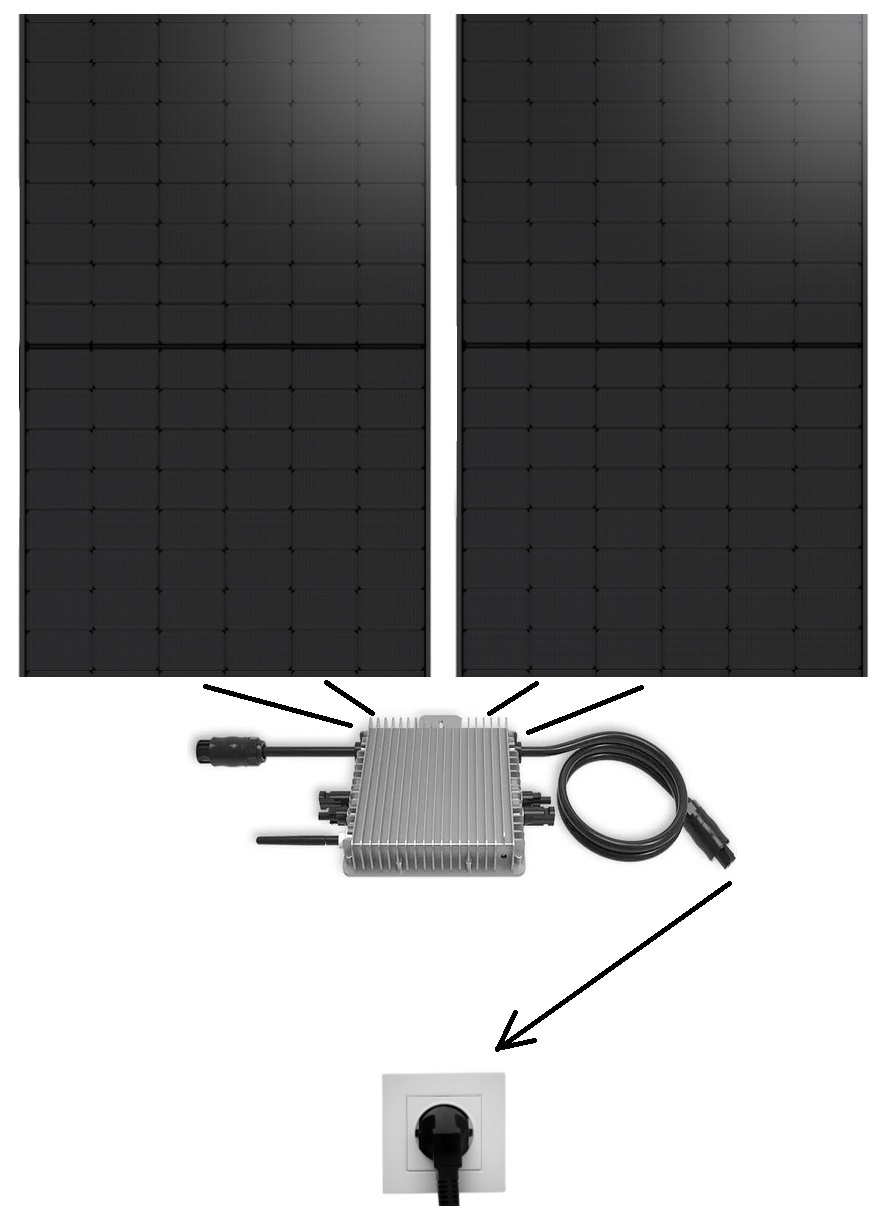 This set with two panels of 400 Wp each connects easily to an earthed socket. We supply a set with 2 solar panels of 400wp each with a 600W micro-inverter, 4 solar cables and an AC cable.
Two solar panels have an output of 800Wp and the micro-inverter 600W. Whatever solar panel, regardless of brand, type, model will almost never reach its yield that is possible. A 400Wp panel under the most ideal conditions will be close or close to 400Wp yield. Then there are several variables that are important such as outside temperature, position of the sun and for how long the sun shines on the panel at the same position. Suppose the panels together produce 700Wp and the inverter can handle 600W. Then the excess capacity will be discharged to the inverter. It will then only get slightly warmer.
4 plug & play solar panels
Option 1.                                                                                     Option 2.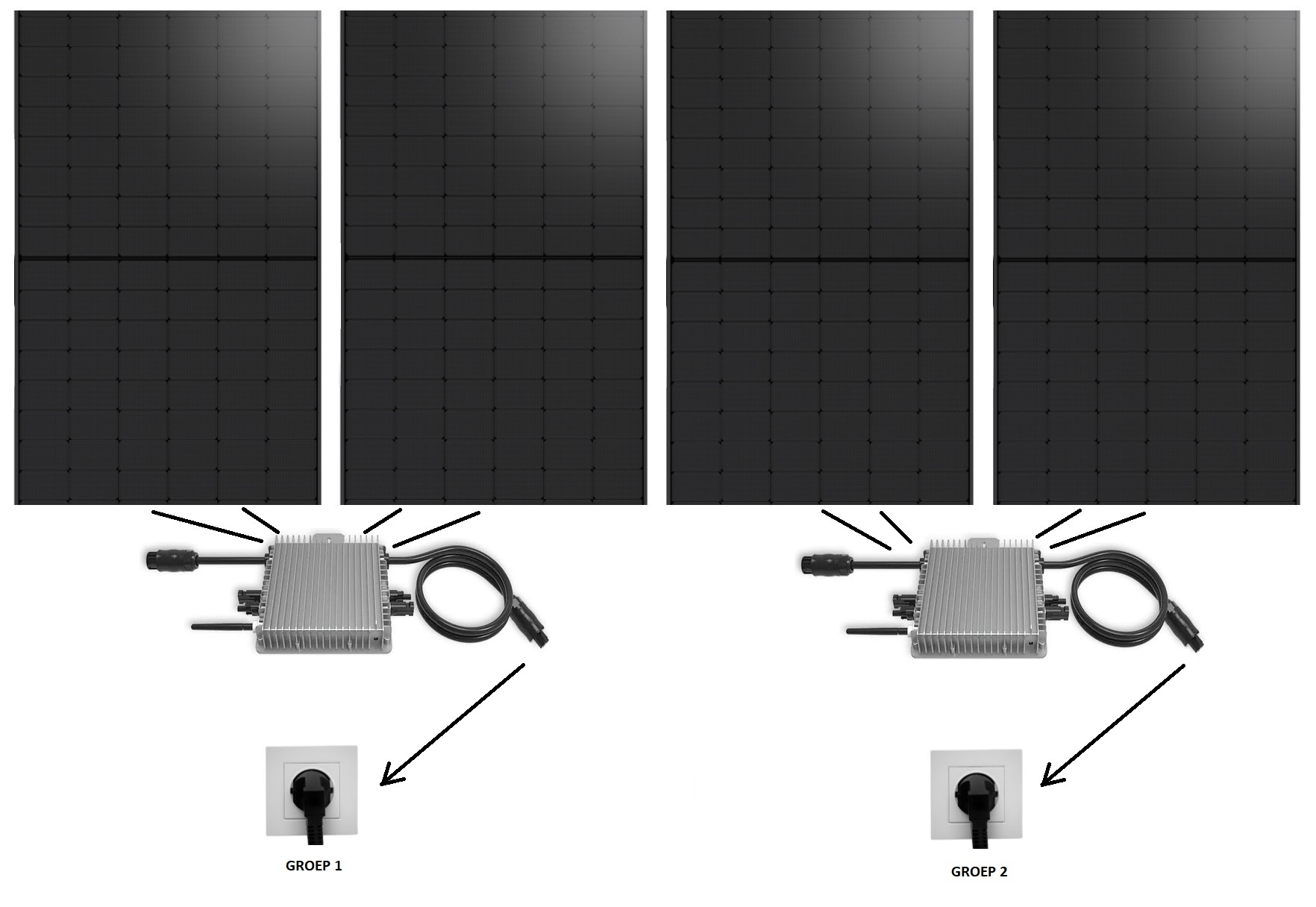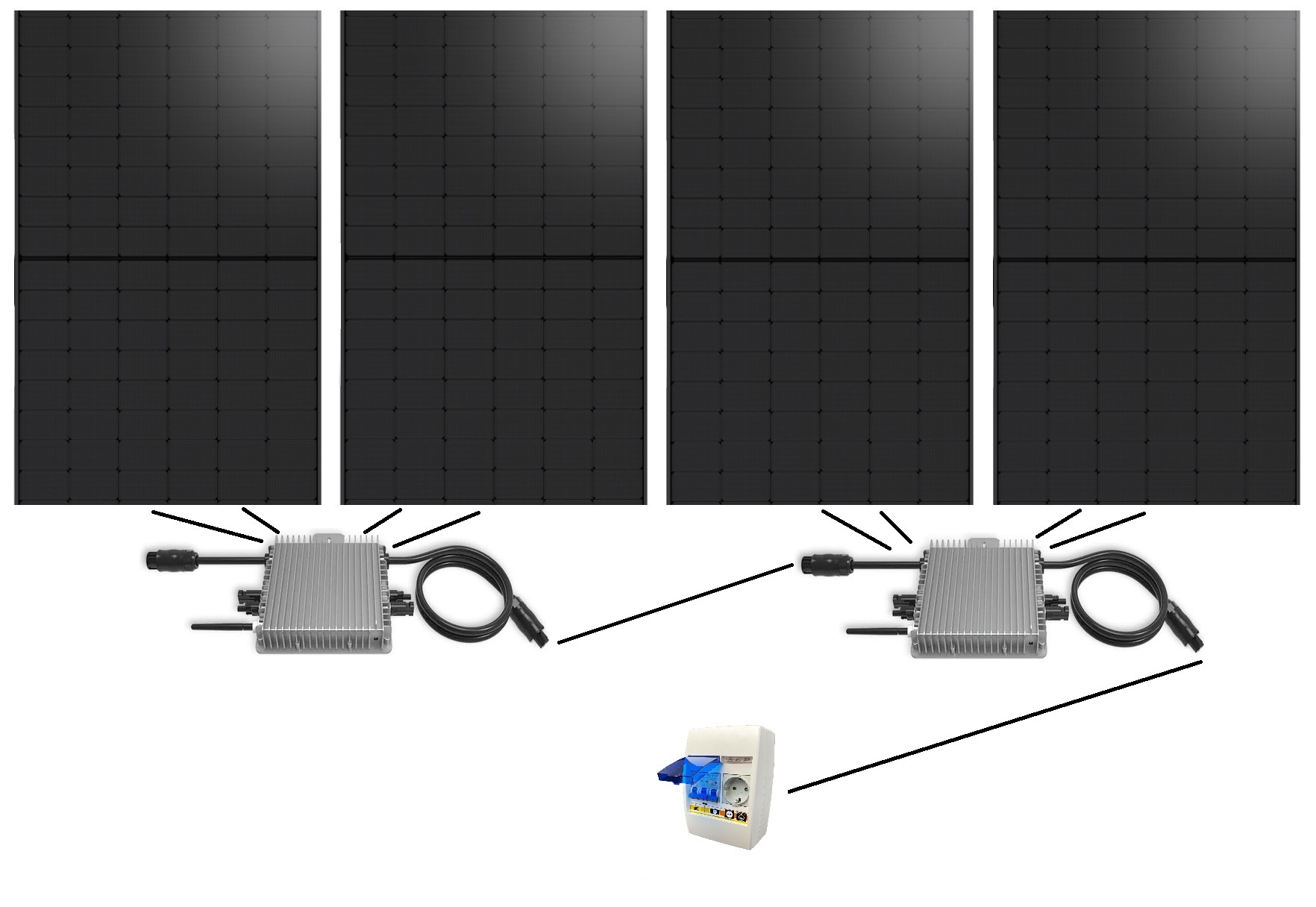 This is a set with 4 x 400Wp solar panels combined with two efficient 600W inverters. Note that you can only connect 2 solar panels per group in your meter box. Or use a PV distributor to connect multiple plug-in solar panels.
10 plug & play solar panels

Want to earn back even more? Then choose this set of 10 plug-in solar panels. These are 10 400Wp solar panels paired with 5 efficient 600W inverters, for which you need a PV distributor.